The amount of inspiring quotes and phrases on the Internet is never-ending. But there is a very popular one that is deceiving, because it sounds so inspiring, and yet, it's not true.
First a disclaimer: I would just like to say that if you have posted this or something similar, I don't know about it, and this is not aimed at you or anyone in particular.  This is simply some thoughts on a phrase, and is not directed at any person or group of people.  I'm not out to make anyone feel bad, or to sound like a know-it-all. I just want to share my heart a little bit on why I feel like this idea can be both inspiring and damaging at the same time!
Think of it as something bad, disguised as something good.
"You Are Enough."
That's the phrase that's bothering me. "Wow!" you might be thinking, "She's nuts. Everyone's posting this one. And it's a way to encourage and uplift women who are in the daily grind with kids and housework and jobs and all the craziness of life."  I get it. We post it to say, "You've got this, lady! Keep up the good work! You are enough."  But humor me for a minute or two and allow me take this phrase apart for a deeper look. AND, to take a look at something that might be a better way to lift each other up!
First, what insecurity is this phrase speaking to?  The idea that we are NOT enough. So, our reply is to pull ourselves up by our bootstraps and make the claim, "I am enough." Like the Little Engine That Could that pulled himself over the mountain through sheer confidence in himself, right?
Inspiring. You are enough. Go teach life who's the boss.
But here's the truth. We aren't enough. We are just human. We make lots of mistakes. Life is tough sometimes. It gets crazy, it gets messy, it gets challenging, it gets overwhelming, and sometimes pulling ourselves up with a little phrase like You Are Enough, simply IS NOT enough…
Have you ever noticed that the Psalmist didn't say, "IF my heart gets overwhelmed…", he said "WHEN my heart IS overwhelmed…"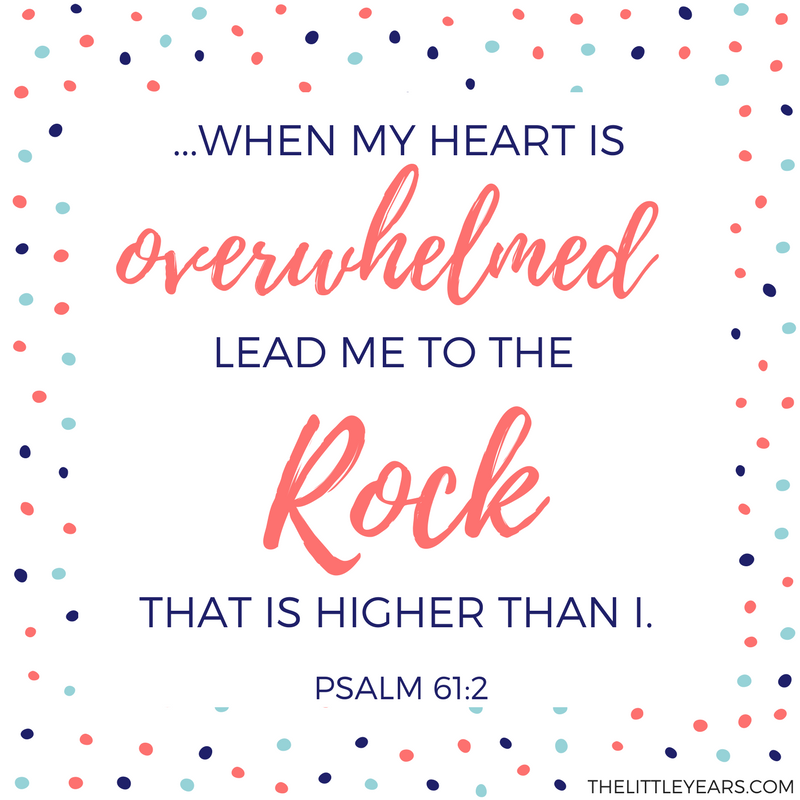 "…when my heart is overwhelmed: Lead me to the rock that is higher than I."
Things will overwhelm us, things will make us feel weak and vulnerable, or overlooked, or under appreciated. We will have hurtful moments, moments that feel out of control, moments that are too much for us to handle.
But don't say, "I am enough. So there." and carry on until the next crash in the day or week.  If Satan can't get us discouraged, he'll get us working in our own human strength and wait for us to come crashing down later.
When Satan whispers in your ear, "You are not enough." Agree with him. Say, "You're right, I'm not enough. But I know Someone who IS enough.  He's my Heavenly Father, and I can run to Him whenever I feel overwhelmed by the cares of life. He is God, and HE is enough."
Satan doesn't like that answer, and it's a lot deeper and more inspiring than the answer, "I am enough."
We are not a little train chugging over a mountain, building our own self-confidence as we go. We are mighty, not because we believe in ourselves– but because we are mighty through our God. We are not supposed to be empowering ourselves as women– we are happiest and safest when we are trusting in the strength of the One who loves us the most.
If you are struggling with feeling discouraged or burdened down, can I encourage you to read through the verses at the end of this post, and be uplifted by these inspiring words from the Bible?  We don't have to be enough, because God already has us in the palm of his hand.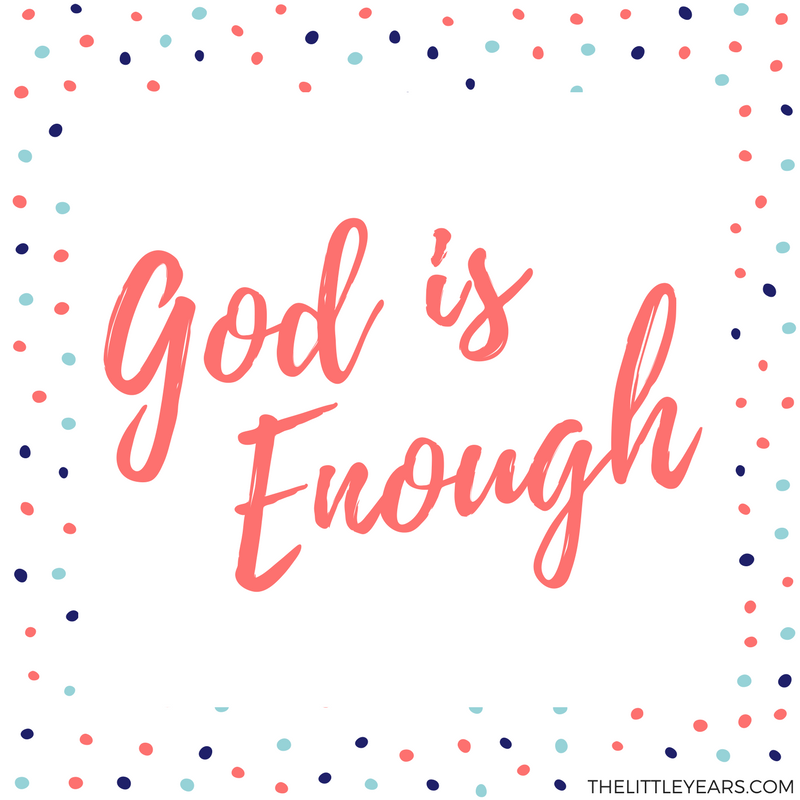 Stop trying to be enough. Let God be enough for you.
---
Psalm 37:24 "Though he fall, he shall not be utterly cast down: for the LORD upholdeth him with his hand."
Psalm 27:1 "…the LORD is the strength of my life…"
2 Samuel 22:3 "The God of my rock; in him will I trust: he is my shield, and the horn of my salvation, my high tower, and my refuge, my saviour;"
Psalm 143:8 "Cause me to hear thy lovingkindness in the morning; for in thee do I trust: cause me to know the way wherein I should walk; for I lift up my soul unto thee."
Psalm 105:4 "Seek the LORD, and his strength: seek his face evermore"
Psalm 28:8 "The LORD is their strength, and he is the saving strength of his anointed."
Psalm 29:11 "The LORD will give strength unto his people; the LORD will bless his people with peace."
Psalm 139:9-10 "If I take the wings of the morning, and dwell in the uttermost parts of the sea; Even there shall thy hand lead me, and thy right hand shall hold me."
Psalm 43:5 "Why art thou cast down, O my soul? and why art thou disquieted within me? hope in God: for I shall yet praise him, who is the health of my countenance, and my God."
Psalm 27:5 "For in the time of trouble he shall hide me in his pavilion: in the secret of his tabernacle shall he hide me; he shall set me up upon a rock."
Proverbs 18:10 "The name of the LORD is a strong tower: the righteous runneth into it, and is safe."
Psalm 36:7 "How excellent is thy lovingkindness, O God! therefore the children of men put their trust under the shadow of thy wings."
Psalm 63:7 "Because thou hast been my help, therefore in the shadow of thy wings will I rejoice."
Exodus 15:2 "The LORD is my strength and song, and he is become my salvation: he is my God,…"