What if everything I've always believed was not true?
Have you ever found yourself asking this question? Not saying it aloud, of course, but in your heart, questioning your faith.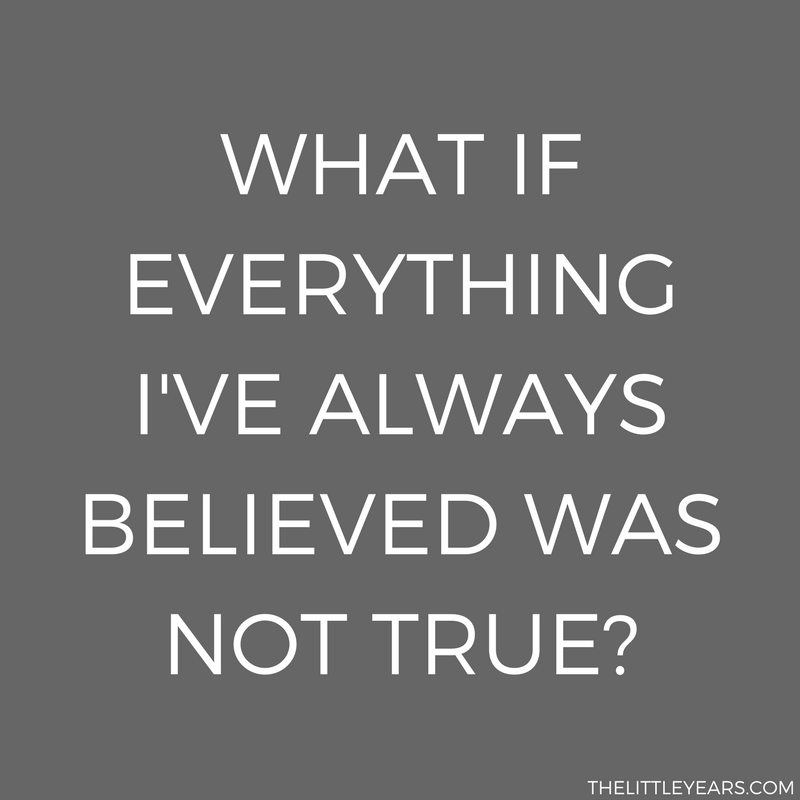 This is something I've only struggled with in recent years.  Doubt and fear are quite similar and pop up together a lot, don't they?
I think as a mom, there are those natural instincts to protect our families and ourselves, because, "What would happen if I died young and my children were left without their mama?  What if my child gets hurt? What if my husband gets cancer?…."
Maybe my struggle with fear really did start with just the natural, protective spirit of a mom.  But when I feed those fears and dwell on them, it results in a lack of faith in God and His plan for my life and my kids' lives.
This in turn can lead to doubting God's love and care, or doubting God all together!
I share this, because although not everyone necessarily struggles with the sins of fear and doubt, I know there are some that do, and this includes me.
Awhile back I began thinking about something.  This questioning of what the future holds, what is eternity really like after we die?, what is God really like?… and fearing pain and death. Where did it really stem from?   Was it all just a mother's love for her family, or was it something more?  How did I wander so far from that deep, committed trust in God that I had developed in my parent's home as a teenager?
Then God spoke to me through a very familiar verse in the Bible.  (Sometimes I think the most familiar verses are the easiest to overlook, because we say or read them without thinking about what they mean.)
Be still, and know that I am God.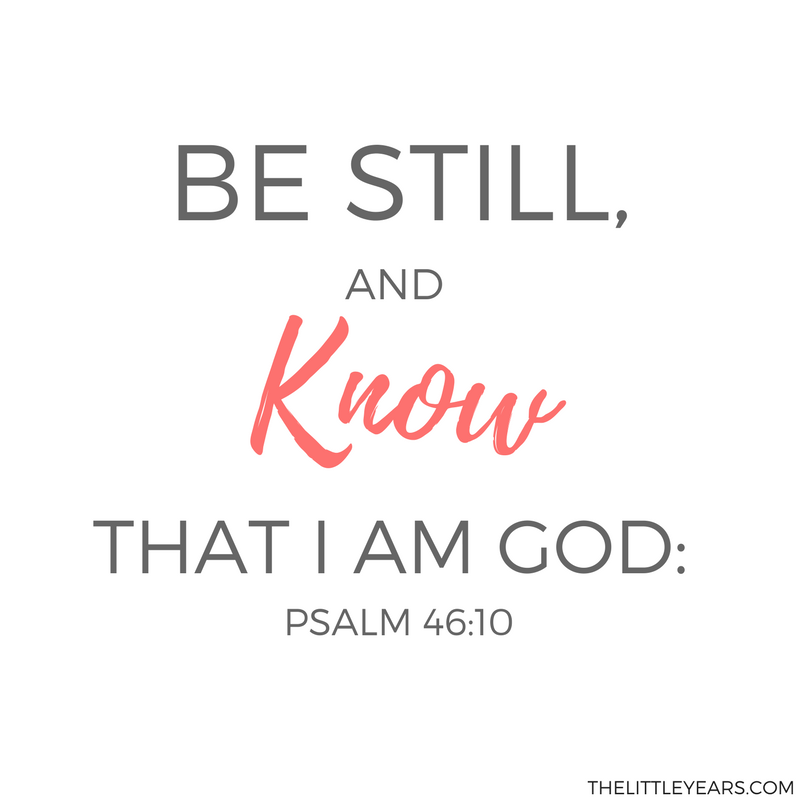 Be still. That was it. I hadn't been still in God's presence at all recently.  As a mama to littles, days are long and exhausting so much of the time. We do our devotions in a hurry because we must some days.  But if "some days" turns into everyday, it means we are no longer taking the time to sit and be still and KNOW that He is God.  Doubts and fears fall away at the feet of our Saviour! How silly of me to overlook this verse that I've heard my whole life!   Be still and know.  We can't just know that He is God, we must be still and feel the depth of His love.  In Philippians 4 it talks about the peace of God that passeth all understanding.   His peace that we long for is beyond our own understanding–and yet as Christians we can still know this peace that is beyond comprehension.  How amazing!!
If you're rushing through a long day cleaning the house, playing with your children, making food for your family, and a million other things that moms do every day–then laying exhausted in bed at night wondering about the future, fearing the worst things imaginable, and even thinking, "I hope what I believe about God is all true," then maybe you're like me. Maybe you need to carve out some time to just Be Still and Know.
We can KNOW His love, we can KNOW His peace, we can KNOW His existence is real, but we can't do it without taking the time to Be Still.