Here are a few simple ways to raise your child's intelligence level starting from infancy.  If you do these on a regular basis, you will find that your child speaks well, using vocabulary (correctly) well beyond their years, has increased focus, and I think you will find that they are happier as well.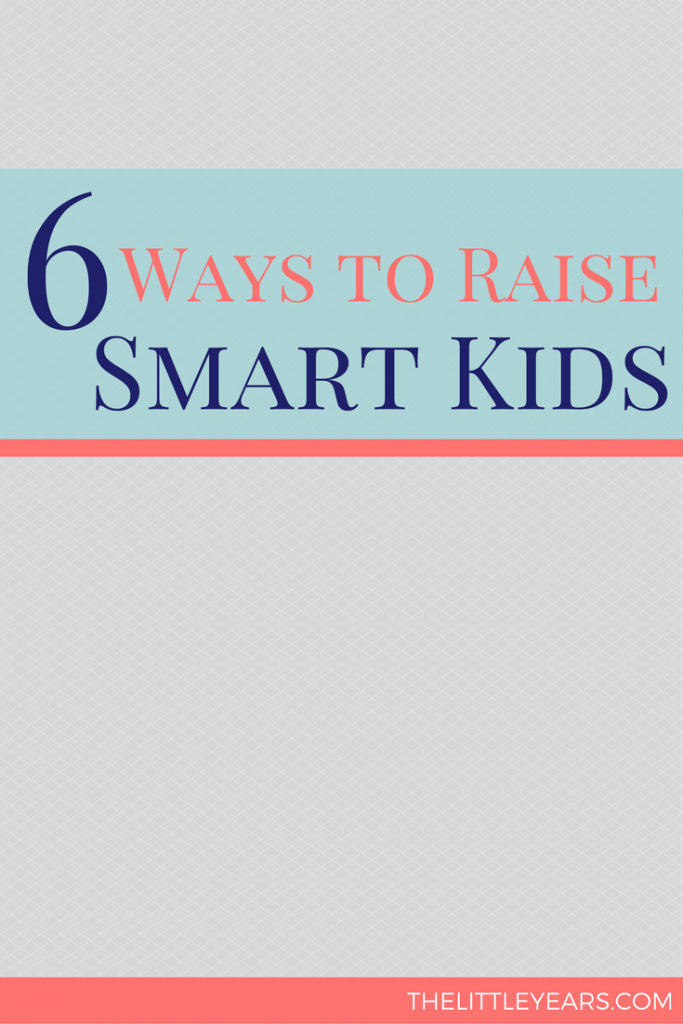 Ban baby talk
I'm talking about calling teeth, teeth, not "Toofers", and calling a dog by it's breed, "Golden Retriever", not "Doggie", and definitely not using incomprehensible baby babble that means absolutely nothing.  I know, I know, we all do it to some extent.  We see that chubby little face, and dimpled arms, and we just start talking baby talk to them.  But think about it, what are they gaining from this?  Trust me, they will experience plenty of baby talk from other people, even random strangers in the grocery store line, who will begin the typical babbling when they see a cute child in your shopping cart.
Growing up, I watched a couple of families who talked to their toddlers and babies in full, adult sentences, and I noticed something…. when their kids began speaking, they could speak better than everyone else their age (and maybe two or three years older than them).  Folks were often amazed by their articulation and "brilliant" questions.  But let me tell you, as we've banned most of the baby babble in our home, we've seen the same results.
Talk in narratives when possible.  Your baby might not speak yet, but they point and grunt and make funny little noises for quite awhile before they learn to speak, and you can use this to teach from infancy.
A couple of examples for you…
Your 14 month old points to a robin in the backyard.  You can either say, "Birdie…the birdie says tweet, tweet." ooooooor, you can say, "That's a robin, she is looking for bugs and worms to take back to her nest and feed her baby. Her baby eats lots of bugs!"  See the difference?   Easy to do, but you'll find conversational narratives with babies are not too common.
One more example…
Your toddler picks a dandelion and melts your heart by bringing it to "mama." How sweet!  Do you say, "awwww, precious baby. You sweet thing!" (kisses all over their chubby cheeks)  oooooor, "Thank you so much! What a beautiful flower you picked for Mama! You are so thoughtful." (kisses are good after you speak intelligently too. ;))
Read lots & lots of books
Also, don't just read lots of books, read good books. As you flip through the books, think about if they even make sense.  I have thrown out several books after reading through them with my kiddos, and realizing that the book had no real point. I've occasionally found books with poor grammar as well.  Definitely get rid of those!  In general though, it is pretty easy to find both story and information books that are ideal for your toddler. The main thing is to take a few minutes throughout the day and read to them. It takes about 30 seconds-1.5 minutes to read most toddler books.  So read 4 or 5 in the morning, a few in the afternoon, and a couple before bed.  Easy peasy, and invaluable for building your child's speech development, curiosity, and imagination.
Choose toys wisely
My husband and I call them "Smart Kid Toys".  It's our term for toys that build intelligence rather than just entertain.  A lot of popular toys do fall in the "Smart kid toy" category.  Building toys like, Duplos, Wooden trains, or puzzles help to teach problem solving, and are an outlet for creative thinking.  Many children's toys are good for lining up, color sorting, or telling stories…these would include matchbox cars, animals, and balls.
Entertainment toys are usually easy to pick out, because if they have batteries, they're probably an entertainment toy.  I say that loosely, of course. 😉
Play music
It has been proven over and over again that the effects of music are lasting effects. Real music (with melody, rhythm and some form of complexity) is great for the mind–not just for kids, but for adults as well!  Even if your child is not learning to play music themselves, having them listen to music has great benefits.  Like we talked about with books, choose your music wisely though!
Limit screen time
Call me crazy, but I have experimented with this a little on my own kids, and there is a distinct difference in children's ability (or lack thereof) to focus and learn, directly based on how much time they're spending in front of a screen. We all need Curious George or Baby Einstein every once in awhile (how else can a mama grab a quick shower?!) — but the less screen time kids have, the more increased their focus and ability to find pleasure in all those "smart kid toys" we talked about. 🙂
Teach with joy
Whenever you sit with your kids to read or play, draw or color, remember to joyfully spend that time training their little minds. What you teach with joy is remembered with pleasure. Your children will enjoy learning, and be eager for more, if you make it a happy time for them.
In closing,
Satisfy their inquisitive minds, fill their heads with knowledge, don't underestimate what your child can learn and accomplish from a very young age, and be their joy filled teacher!
Be sure to subscribe if you haven't already, because I'm writing a follow-up to this post called "How Kids Learn" that is about the way kids are wired for learning.  Kids are surprisingly different than we adults in the way they learn. Stay tuned!