A short story + 10 ways to be happy when you don't feel like being happy. 🙂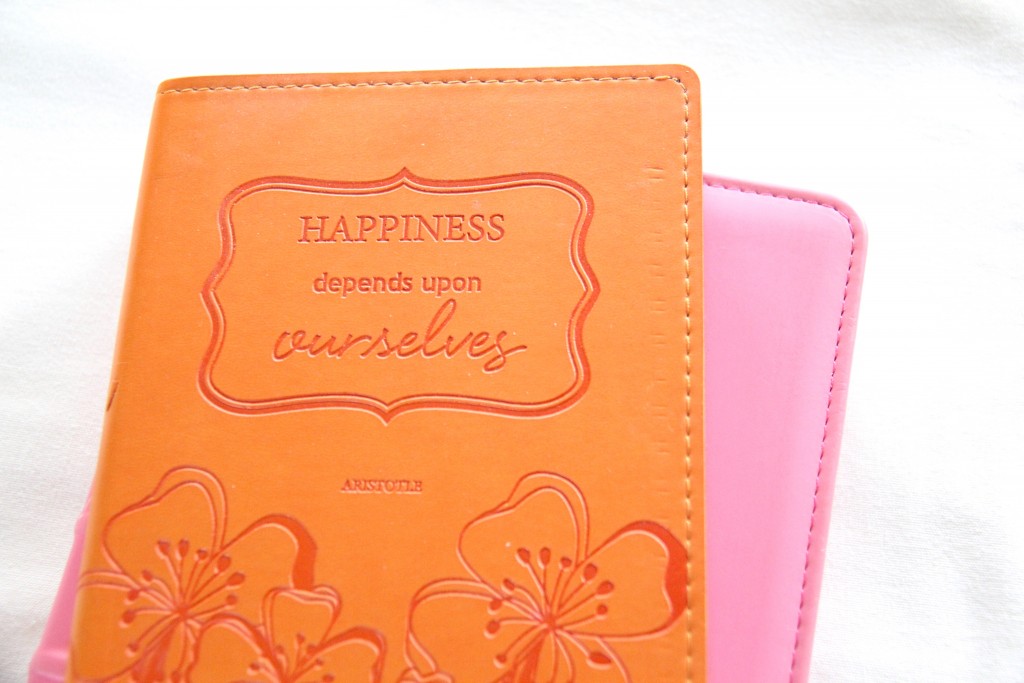 A couple years ago, I was going through some real struggles–emotionally, physically, and spiritually. Without going into great detail, here is a brief summary.   My health was out of whack leaving me physically tired almost all the time, I was reading my Bible but struggling to make the truths from it personal (my devotions were more based on character than wanting to actually do them), and then, right when I was down, a person I was close to told multiple lies about me– and there was simply nothing I could do about it.
So, while I had much to be thankful for, I let these personal, internal struggles overshadow all the blessings in my life, and steal my joy.
To be honest, I haven't shared this with others, and I only share it here today, because it led me to find ways to be happy, even when I didn't "feel" like there was much to be happy about.
These are pretty basic, but you never know who is going through a tough time in their personal life, so I hope that by sharing this I can be a blessing to someone.  For clarification, I'm not talking about depression here. There's a lot more involved if you are struggling with depression.  These are more for those days when you feel discouraged, or something really lousy happens that's just out of your control.  Instead of giving into feelings of rejection, hurt, or failure, here are a few things to bring back your joy…
Smile.

Even if it's totally fake at first.  Even if you're the only one around. Smile.   You may think that people smile when they're happy, and that is true.  But you can smile to make yourself (and those around you) happy if you like.  You don't have to be happy first in order to smile, it can work the other way around!

Clean the house.

Clutter creates tension. Maybe on a day you're feeling down, you don't have time to clean your whole house. That's okay, just start with one room, and make it a little haven of peace by having it completely tidied and clean.

Do something for someone.

Anyone–just get your mind off of yourself. Send an encouraging email or text, drop a handwritten note in the mail, or buy someone a gift.  There is so much joy in giving out kind words, thoughts, or unexpected gifts to others, that doing these things adds feelings of happiness to your own life.

Read Psalms.

If you're down, go read some of the beautiful, comforting scripture passages from Psalms.  Keep reading until your attitude changes.

Freshen Up!

Are you in your pjs? or a big hoodie? Is your hair drooping around your shoulders all unkempt? Throw on a clean set of clothes, maybe a touch of makeup, and get that hair up in a ponytail.  Hold your head high, and get going on your day.

Tackle a job.

There's a sense of accomplishment in getting something done. Pick a couple small things that have been hanging out on your to-do list for awhile, and knock them out.  It will give you a sense of winning!

Be thankful.

Find 15 things to be thankful for. Make a list. Thank God and others.

Take a nap.

I know this is not always possible, especially if you have small children. But if you can take a nap, don't feel guilty about, just do it. Being tired can quickly lead to feeling down.

Rest in God.

Sometimes we aren't able to rest our bodies, but we can rest our minds on God.  Talk to God, tell him all your troubles–then let go of the troubles. He can handle it all.

Play uplifting music.

Sing-along. 🙂
There are a lot of things that are out of our control, but our own happiness is not one of those things.  We can choose to be happy.
"Happiness depends upon ourselves." – Aristotle
UPDATE: 
The day I posted this, I received several texts and messages saying they appreciated the ideas, and could very much relate to the post.  I decided to make a printable version of the post for those who wanted to print it.   I've added the PDF to my printables page {here.}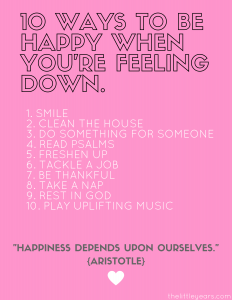 "10 ways to be happy when you're feeling down"