Kerstin Jessup is mom to four fun & active boys, ages 8, 5, 3, and 4 months. She and her husband, Joel, look forward to meeting their baby girl in Heaven one day.  Kerstin & Joel live in Iowa, and serve in a church ministry there.
Kerstin is also my cousin! I have a lot of respect for her, and the way I see her raising her young boys. I have asked her to share some thoughts for boy moms in this post. Enjoy! 
---
As I contemplated this topic I found myself smiling and even laughing a bit to myself as I recall the very "colorful" antics of my little men. As I am in the beginning stages of raising boys, it has been an adventure for me as much as it has them. And I promise you, for every lesson I have taught them, they have taught me one too. 😉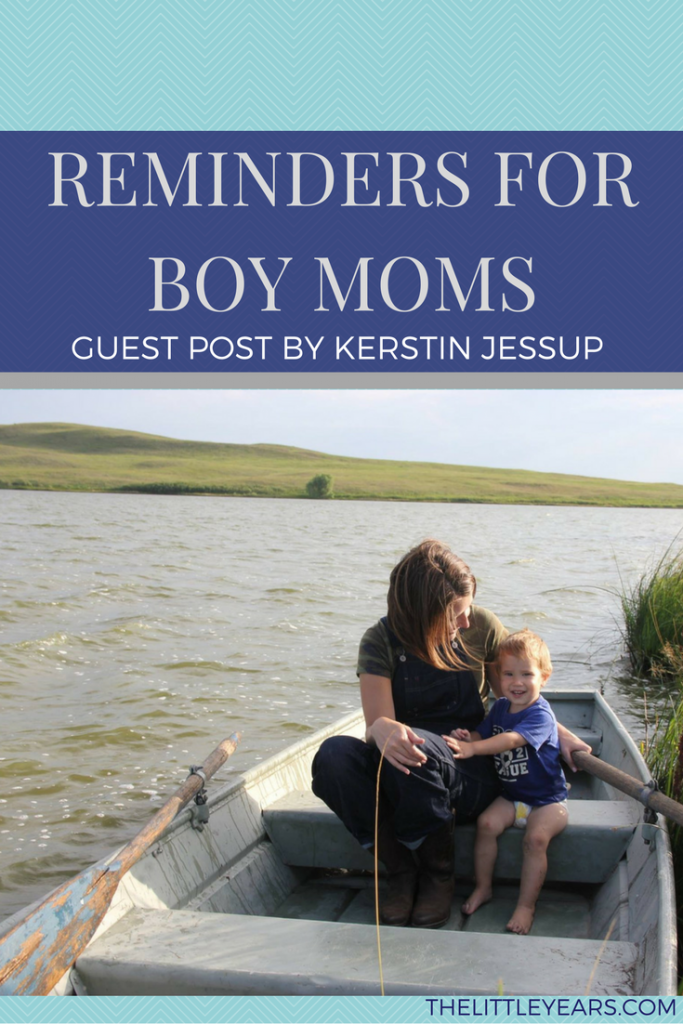 –
"And I promise you, for every lesson I have taught them, they have taught me one too."
–
Boys are not men yet. 
One of the things my husband and I are trying to do with our sons is to allow them to have a childhood. Not a zombified experience in front of the TV or iPad, but a play outside in the dirt, build tree forts, kill bugs, run around playing all sorts of games –childhood. We want them to have memories of their childhood rather than high scores on a video game. We do have a Wii, but the boys play it very rarely. Call me old fashioned, but I still think there is no better treatment for a busy boy than just going outside to play.  They are learning manly traits through their play.
Let your boys get dirty. Let them play and develop that God-given imagination. Let them be children while they can, they have the rest of their lives to be adults. Let them peacock those budding manly traits in the mean time. Praise them often and champion their little causes.
Boys can be quiet too, sometimes.
I am learning the importance of a "quiet time" during the day. My oldest (8) uses this time for reading his Bible or working on his memory verses, as well as reading books that we have collected over the years. My second born (5) will read some but mostly look at books and make up stories of his own. My two youngest are still in the napping stage, so that is pretty easy for me to facilitate. 😉
It is a good thing for a child, boy or girl, to learn appropriate times to be quiet and be still. It helps Mama get some rest or extra work done, and it teaches self discipline and patience to the child.
Boys can have a sweet side.
My sons are all sweet and tender in their own ways. My oldest loves to wake early to spend some extra time with me. I am a [major] coffee drinker and he will sometimes ask the night before if he can wake up early and have coffee with me…I mean, seriously- how heart melting can you get?!?! Often times I make him hot cocoa rather than actual coffee, but then we will just sit and talk together until it is time for me to make breakfast and for him to get ready for school.
My second born, loves to give kisses and hugs, and he has coined special names for different hugs that he likes to give. He has regular hugs, bear hugs, wolverine hugs, and badger hugs. He is my boy who asks all the time to take me out on a mom-son date to go get a donut and coffee. He is my boy who without fail, every time he goes outside will find a flower of some sort (usually clover or dandelion) and bring it in to me. And let me tell you, it means the world to him if I take the time to smell it and thank him with a kiss.
My third son (3) is my little protector. And actually he is very protective of all of his little family. He will do his very best to defend whoever is being picked on, whether it is in jest or serious. He is my boy who wants to cuddle with his mama and read stories until she falls asleep. 😉  He is my shy one who isn't very trusting of outsiders.
My youngest is just one big sweet bundle still. He is barely 4 months old and I am savoring every bit of preciousness that I can from him. He is my rainbow boy. We have a baby girl who went to be with Jesus before we had him. He is my little one that has taught me that God's ways are not our ways, but are for our good and His glory. Every day he is my reminder that God is Good.
Develop those sweet qualities in your children. Encourage your sons to be sweet and tender to others. Those traits will go far in helping them in adulthood. Their future wives will be very grateful too.
Boys can be taught to be appropriate.
This is something we still have to work on daily, and will be for many years to come. It is so worth it though. It is of utmost importance for our sons to know what is appropriate. They need to know how to act in public and how to act in private. They need to know what to say at the table, and what is ok to joke around with dad about in the workshop. They need to understand what is appropriate behavior from others, and when it is necessary to tell Mom and Dad if something wrong is happening. They need to know the difference between sitting in church, and sitting in a crazy exciting VBS night. I could go on and on. Basically, every aspect of life has an "appropriate " and an "inappropriate", teaching them to discern the difference, then act accordingly.
Boys can follow Jesus.
Our biggest prayer request for our sons is that they would be saved, and follow Christ from a young age. We know that many scars can be avoided by simply living daily in the will of God, and allowing Him to have first priority in our lives. This is something they will learn from example as much as verbal teaching. As parents, our job is to live in such a way that our kids can truly say, "I want to know the God that Daddy and Mama serve, "I want to have him do miracles for me like he has for them." It is going to be much easier for them to come to that place if they see a consistent example from us as parents. Guess what? This is the hardest thing to do. That's where the precious Holy Spirit having control, and an extra helping of grace comes into play. Praise the Lord for both of those!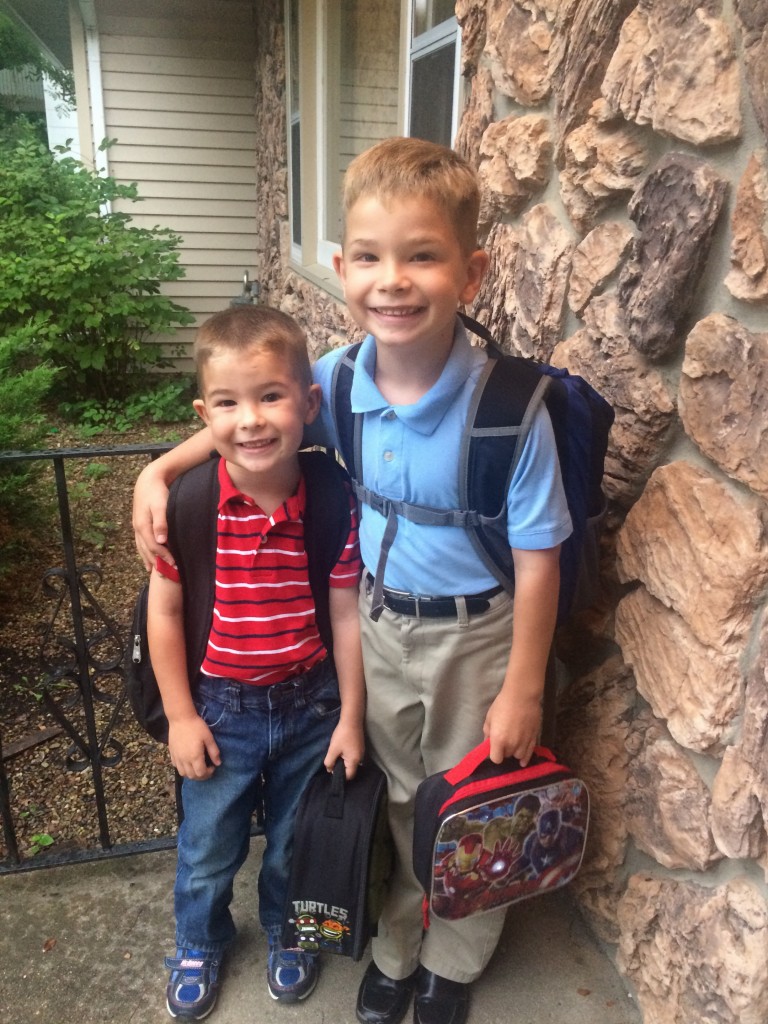 "The boys that the Lord has given me to raise are my most precious treasures."
The boys that the Lord has given me to raise are my most precious treasures. They are my little bear cubs, my knights in shining armor, my cops, robbers, Daniel Boone's, and Davy Crockett's. My Boys are some of my biggest blessings and greatest treasures.
 –