Some of you may already know this and be following my other page, but I recently started a Facebook page, called "Deals at the Door", dedicated to online deals for Moms & Kids.
Let me explain…
I love getting great deals online, especially if it involves free shipping. Who wants to pay shipping anyway?! After following along with a couple coupon/deal blogs, I discovered that I was wasting a lot of time digging through all the in-store deals to get to the deals that were online with places like Amazon, The Children's Place, and more….
You see, it's not practical for a mom of 3 little ones to dress the kids, take them all potty, and load them up into the minivan to hike out to a store because wipes are on sale TODAY ONLY at Walgreens (or wherever.)  I would have to interrupt the entire flow of the day to sometimes be saving a dollar or two.
That's not really a savings at all, is it?
So, I started sorting through the best online deals on diapers, wipes, laundry soap, toilet paper, dish and hand soap, kids clothes, coffee (mama essential!!) and other things that moms like me would use.  I've been posting them to the "Deals at the Door" Facebook page so other busy moms can take advantage of these easy to access bargains.
I chose not to share the deals here on the blog, because I'd like to stick with the themes of simplifying life, teaching children, and helpful articles for women, without clogging it up with headlines like, "Large box of Pampers diapers just 16.95 shipped!"   To keep everything organized and separated, I'm posting over there daily, and I'd love to have you join me.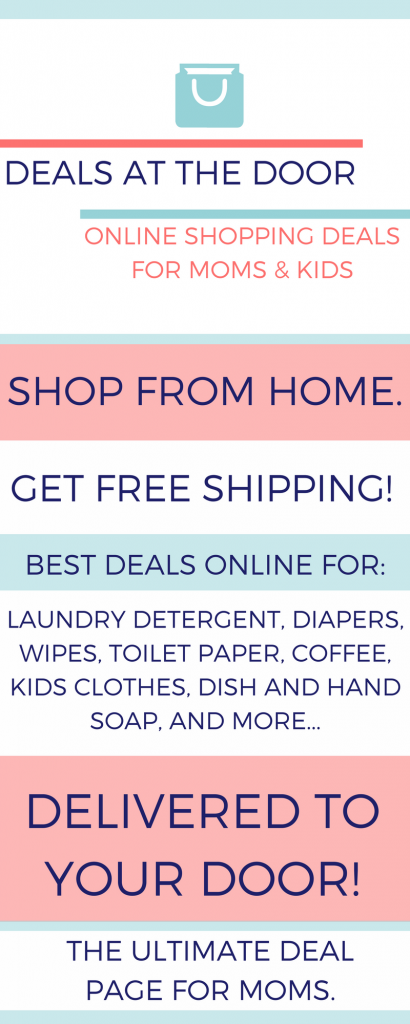 ---
1 ) 95% of what I post has Free Shipping. Occasionally, a really great deal with reasonable shipping cost comes through, and I go ahead and post it if I think you'd really want to know about it.
2) You will see a lot of Amazon Prime deals on the page.  Due to the massive amount of products Amazon stocks, as well as prices fluctuating up and down all the time, I'm finding it is one of the BEST places online to snag amazing deals.  However, even if you do not have Prime, a lot of the Amazon deals will still work for you!
See you over there!