It's November 29th, and here's my contribution to your holiday plans!
If you're like me, you love the idea of an Advent Calendar, but it's hard to find the time to get one set up for your kids. Yes, you can buy advents at the store–but they're either very pricey, or filled with candy and cheap toys.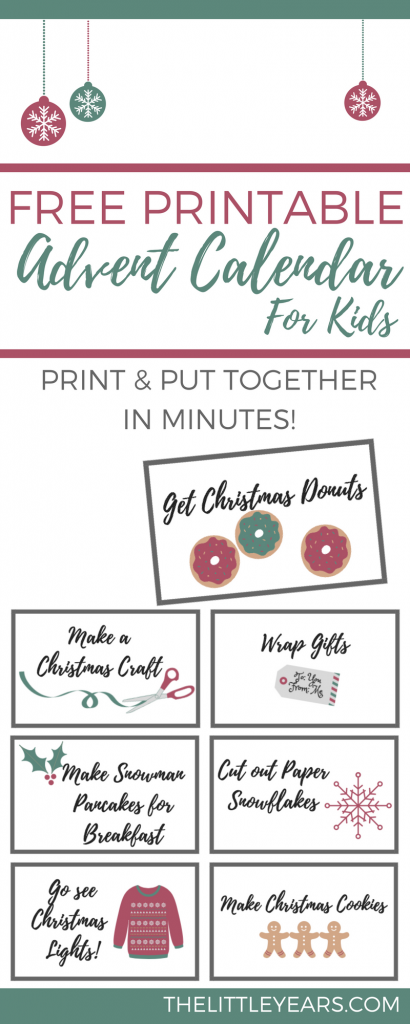 Well, how about a simple, printable advent that is planned around fun & easy Christmas activities for your kids?
To give credit where it is due, I must say that this was all inspired by my sisters, Emily and Bethany, who brainstormed fun activities for their kids, then shared the idea with me.  I then promptly stole the ideas to share with you! With their permission, of course. 🙂
Emily even came over to my house with bags from Target full of stickers, envelopes, washi tape, and more, so we could decorate our advent envelopes together.  Yes, she's basically amazing!
So here it is, the simplest advent. You can put it together today, and begin with your kids THIS Friday! Can you believe it's going to be December 1st?!
---
Step 1: Print the FREE Advent Calendar Cards.
Step 2: Cut out the activity cards you want in your calendar.
Step 3: Decorate 24 envelopes with markers, stickers, washi tape, whatever you like  (and don't forget to write out numbers 1-24 on them!)
Step 4: Slide the cards into the envelopes and display in a cute box or basket somewhere in your house. Alternately, you could clip them to a ribbon or string and hang them on a wall.
Easy, right?
---
Here are some tips for using your advent calendar:
-Tuck the flaps into the envelope and don't actually seal it.  This way if you have "Build a Snowman" in #13 and there's no snow that day, you can swap it out for a different card.
-Use the set of blank cards that I included to write-in activities that are more specific to your family. For instance, we have a family Christmas party every year (with aunts, uncles, cousins, etc), and one day for our advent activity we will be making our Christmas costumes for that party!
-Emily had the great idea to laminate her cards so she can use them again next year!
-If you want to do the "You Get Christmas Jammies" card, but you haven't found Christmas PJs for your kids yet, check out Crazy8 or Gymboree. They both have sales going on this week for Cyber Monday and have Christmas Pajama Sets priced at $10 and under + Free shipping!
---