For a couple months now I have been planning to make a schedule for the two older children. In my mind, I had this amazing, elaborate schedule that I would design with little checkboxes and time slots.
The other day I realized the fancy schedule isn't going to get made anytime soon, so I made a simple schedule instead. And guess what?! The kids think it's the best.thing.ever!
This all started because I was typing some ideas into my iPhone, you know, so I could work on making the fancy schedule sometime… and I started popping emojis next to each task.  Ah-ha! lightbulb moment!
Here's how to make your own toddler emoji schedule
(because moms of littles need to keep things simple sometimes.)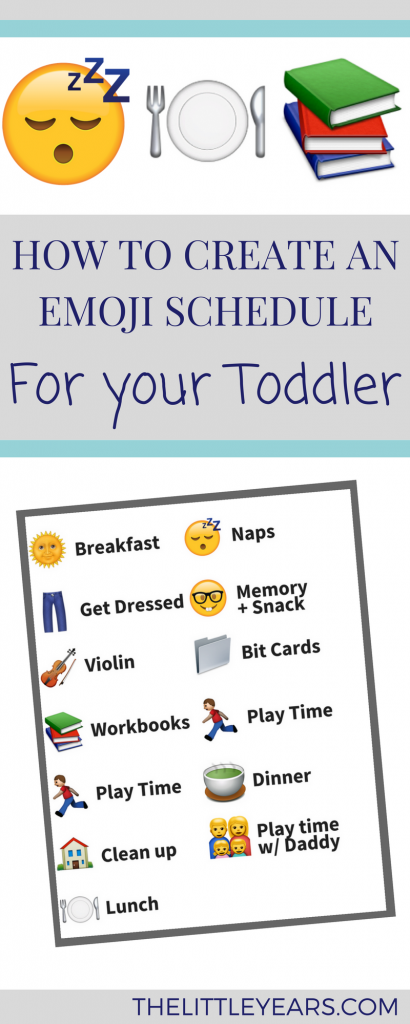 1 Get your Emojis
Using Google Images (https://www.google.com/imghp) enter the emoji you need for each task, (ex: running boy emoji) and save the images to your computer desktop.
2 Create the schedule
a. Go to Canva.com and sign up for a free account.  This is a legit website that can be used to create all kinds of projects.
b. Under the "Create a Design" section, choose "US Letter 8.5 x 11"
c. Drag your emoji images from your desktop into the Canva screen. They will automatically pop into the left side of your screen in the uploads section.
d. Now you can drag, drop, and resize your emojis on your page.  Hit the text button (also on the left side of your screen) to add the tasks to your schedule.  You can change the font type and size at the top of the page.
e. At the top right of the page is a download button.  You can download your design as a PDF there.  Once you have your PDF, you are ready to print.
*Note: Canva will save your design so that if you ever want to add or take something away from your schedule, you can simply go in, edit and resave.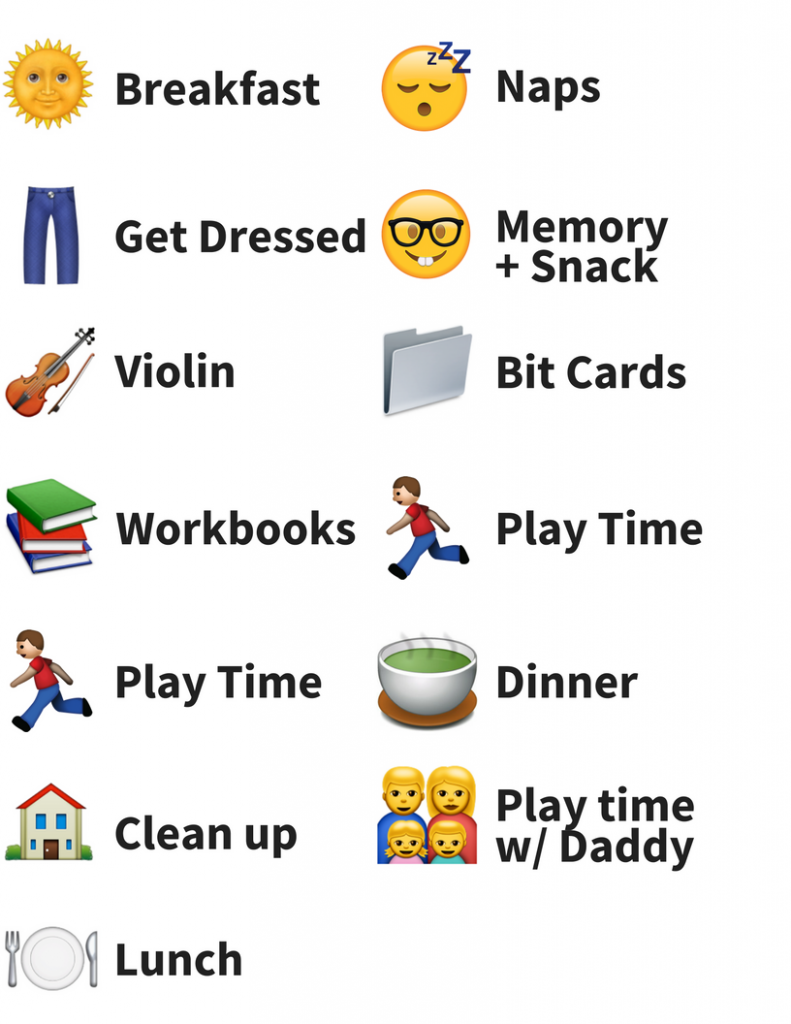 This is the schedule I created for my kids. I would LOVE to see your schedule if you make one. You can get pretty creative with these!
Feel free to send me your finished project at thelittleyears@gmail.com.
Also, don't hesitate to ask any questions if you need help!