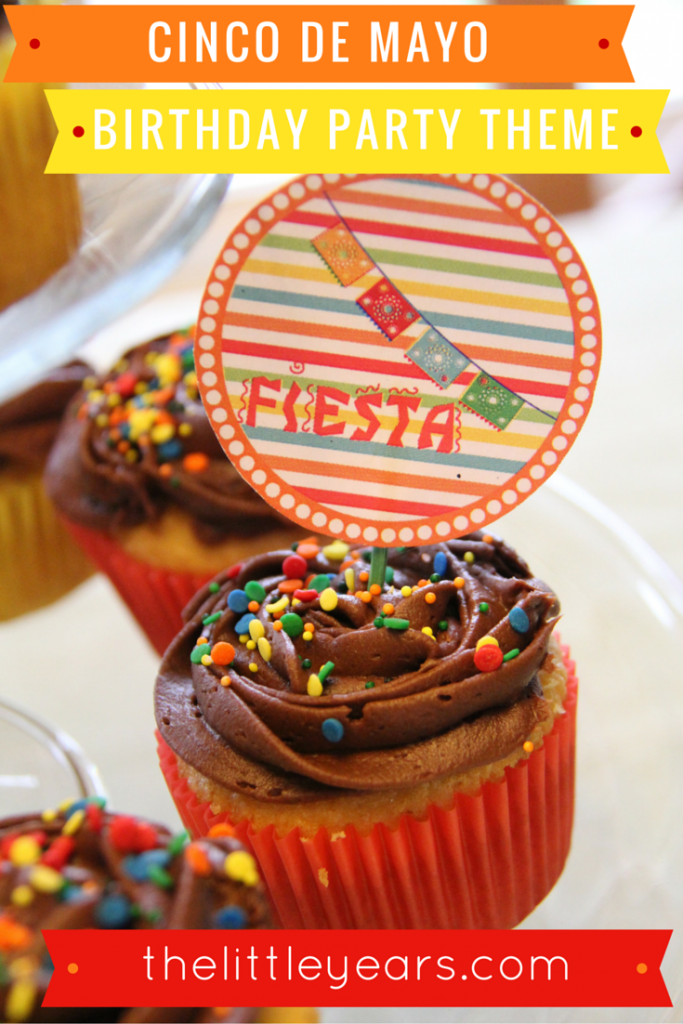 With several life events happening in April, Michael's 1st birthday party planning was put on a back burner, and was finally thrown together with only one week to plan it.  Needless to say, I love Pinterest, and all the marvelous bloggers who make it such a great place to find ideas!
If you want to do a Cinco de Mayo or Mexican themed birthday party, here are some fun things I found and used.
Under each project picture, I will give you a rundown on the cost, time involved, and where I found the idea.
Party Decor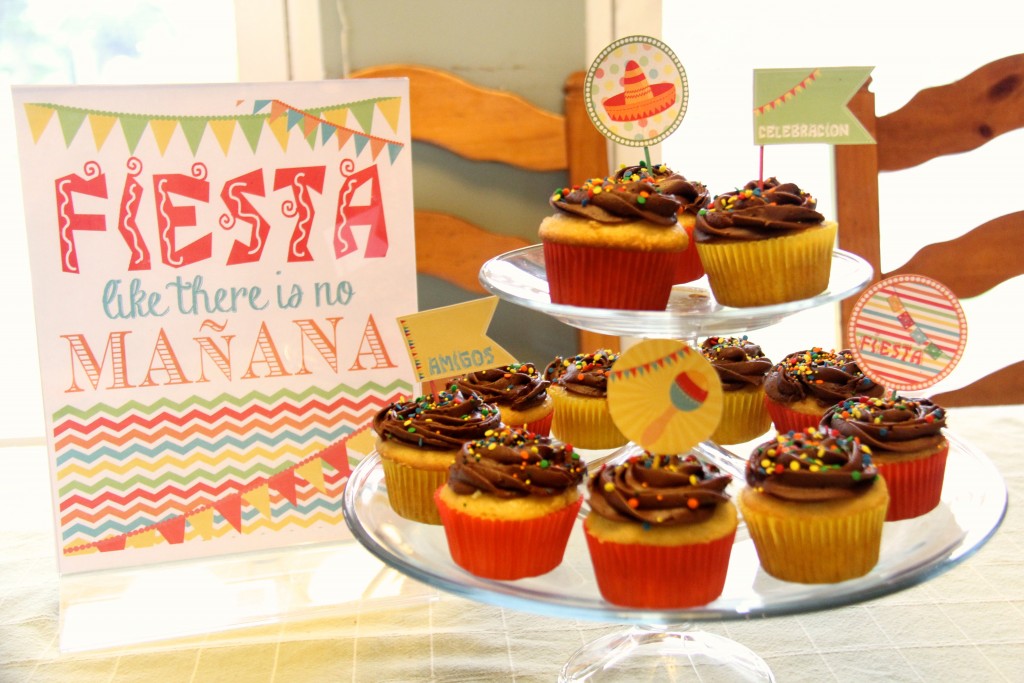 Cinco De Mayo Party Printables
Cost: FREE — this is free to download.  Simply print and attach to colorful toothpicks to add some festive vibes to your cupcake tray.
Time Involved: A few minutes to print, cut out, and glue to toothpicks. Probably a total of 10-15 minutes.
Found on:  This adorable sign and the cupcake topper printables are FREE over on The 36th Avenue.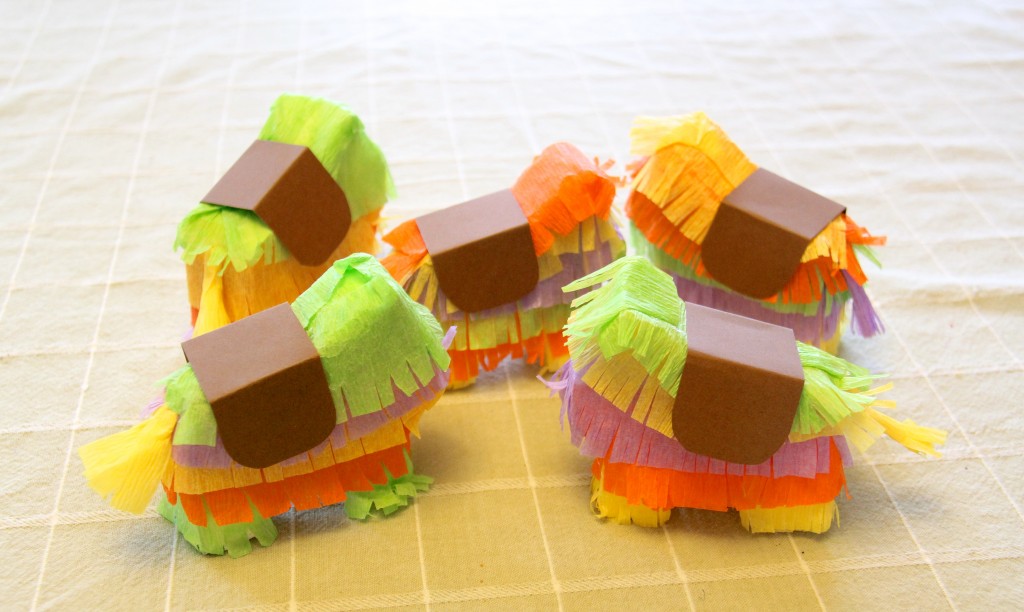 Mini Piñatas
Cost: $4-5 for colored party streamers, $2 for candy to put inside.
Time Involved: A LOT! If you can get a friend to help you make these, or if you plan way ahead, go for it.  I only ended up getting 10 of these made, with an initial goal of 24.  They are so cute–but they are a lot of work.
Found on: Evite Party Ideas — See the tutorial in pictures here.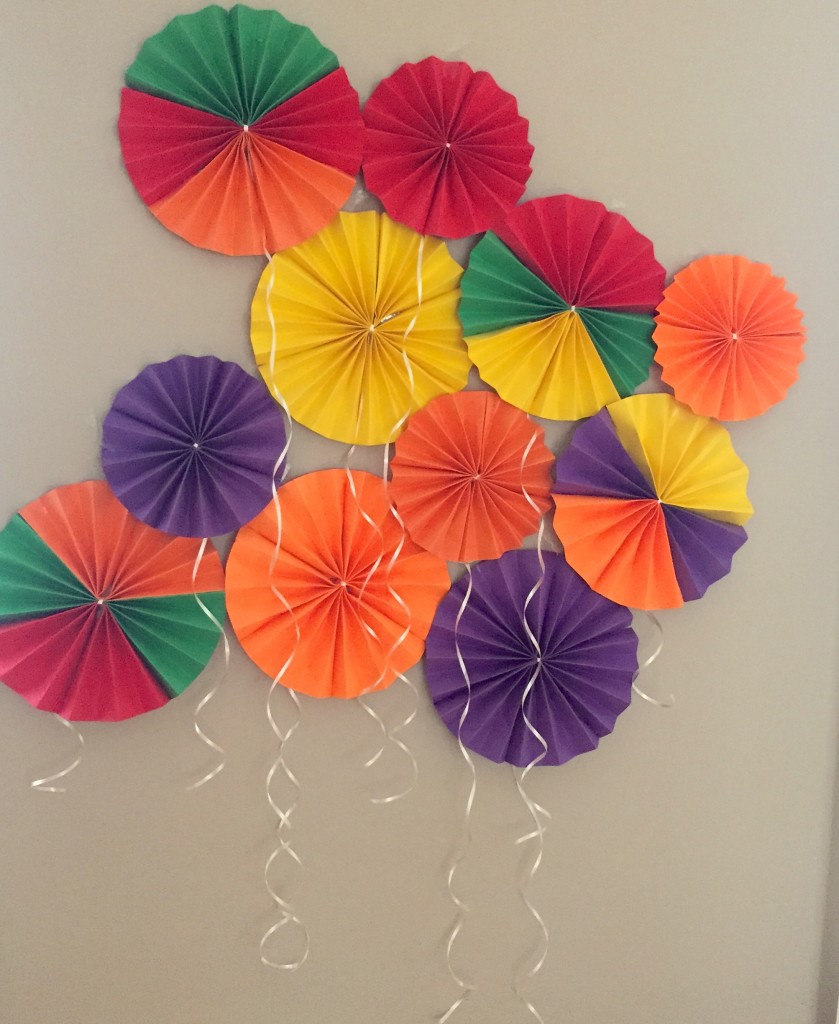 Paper Fans
Cost: $4-5 for a pack of colorful cardstock
Time involved: These are relatively easy, but do take a little time, about 5-10 minutes per fan.  You can follow the tutorial below. I just glanced it over, got the basic idea, and went for it, so I made mine slightly different, using the white curling ribbon to make a center, and letting it hang down for a drippy effect. I also used staples instead of glue, because it was faster, and I was on a time crunch. 🙂
Found on: A Pretty Cool Life – full tutorial here.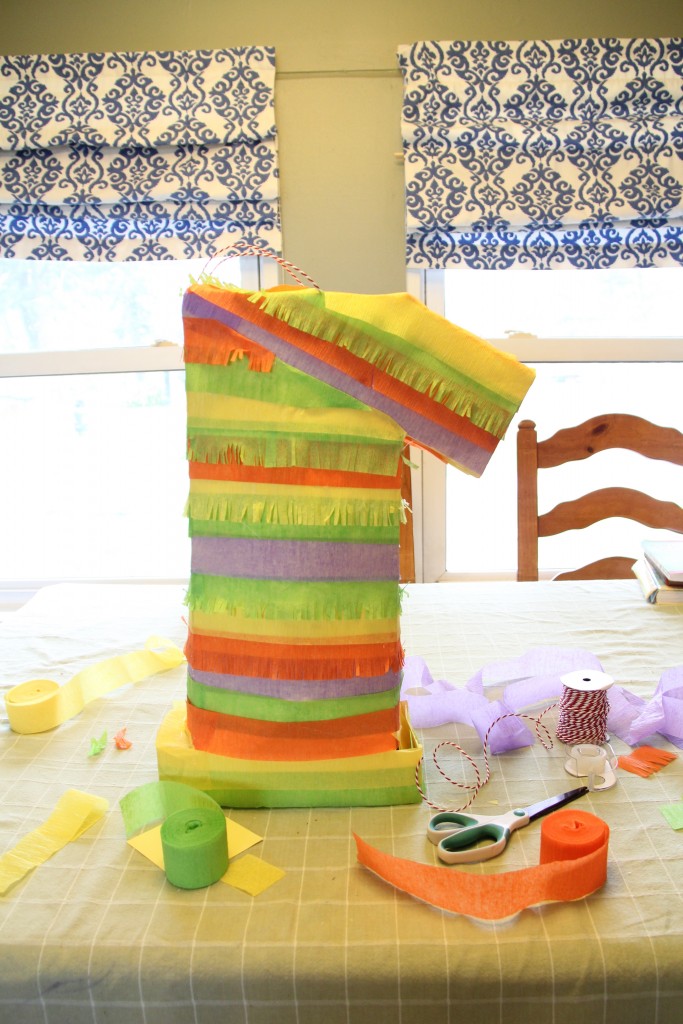 Piñata
Because how can you fiesta without a piñata?
So I actually made this. But it took a long time, and in the end, it didn't hang properly—so I'm going to tell you, just buy a piñata.
Cost: They range between $15-$30 depending on size and design + the cost of candy or snacks to fill it with.  Since this was a first birthday part, I got fruit snacks, animal cookies, little boxes of raisins, and other kid-friendly snacks.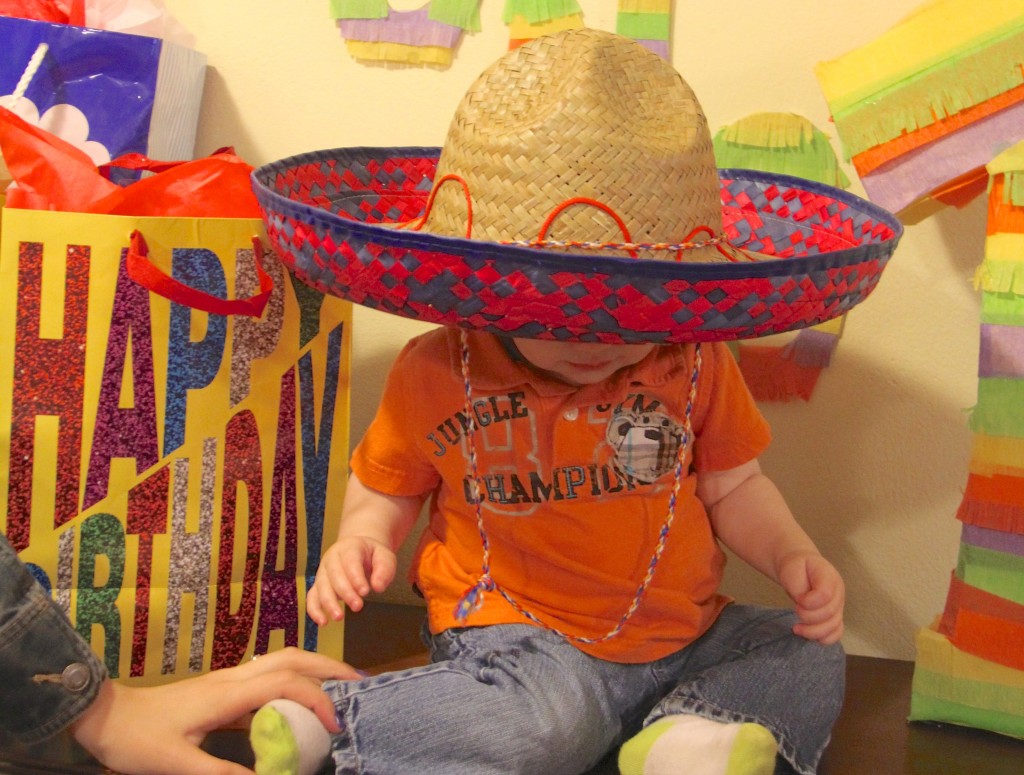 Sombrero
Don't forget a sombrero for the birthday boy or girl!
Cost: 2.99 at Hobby Lobby (when you use 40% off coupon)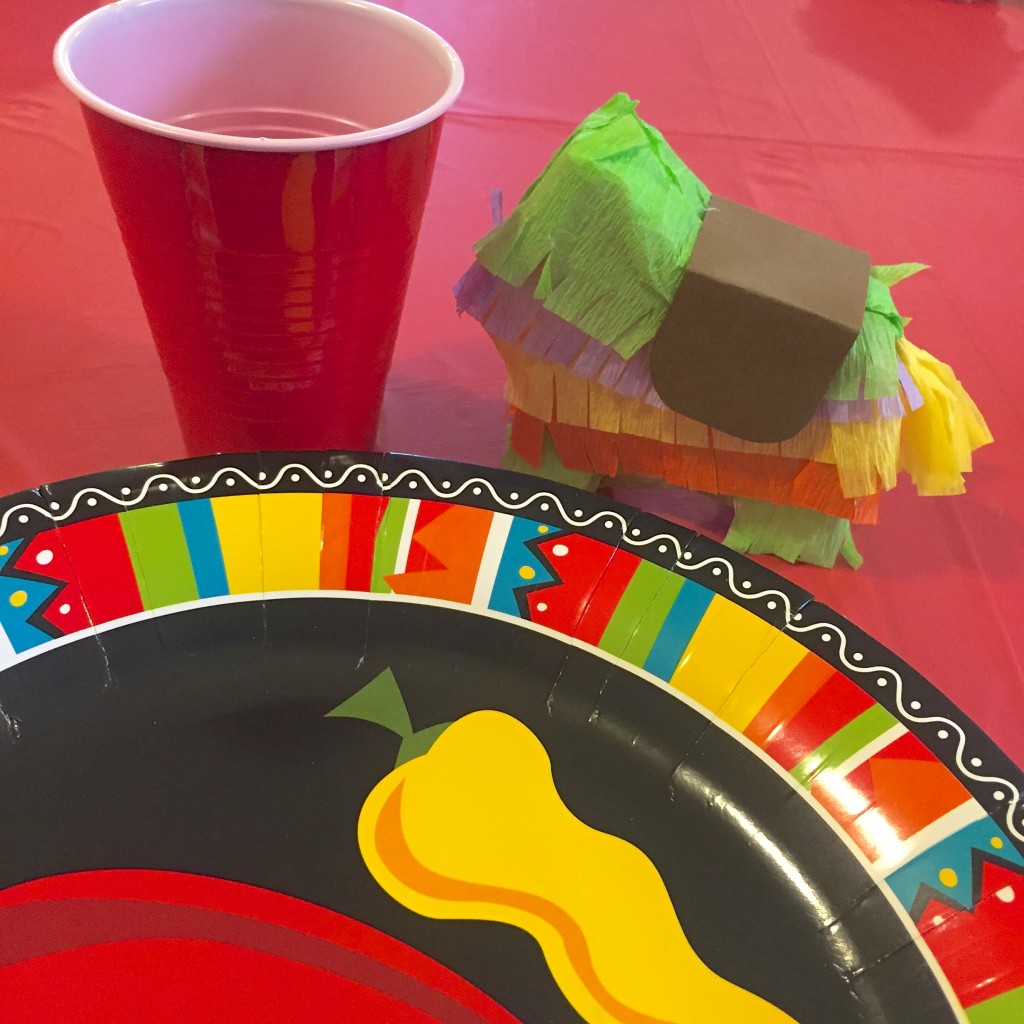 Cups, Plates, Napkins, Plasticware & Tablecloths
Cost: Between $10-20 depending on your party size.
Found at: Mexican paper plates (Hobby Lobby), Everything else (party section at Walmart.)
Menu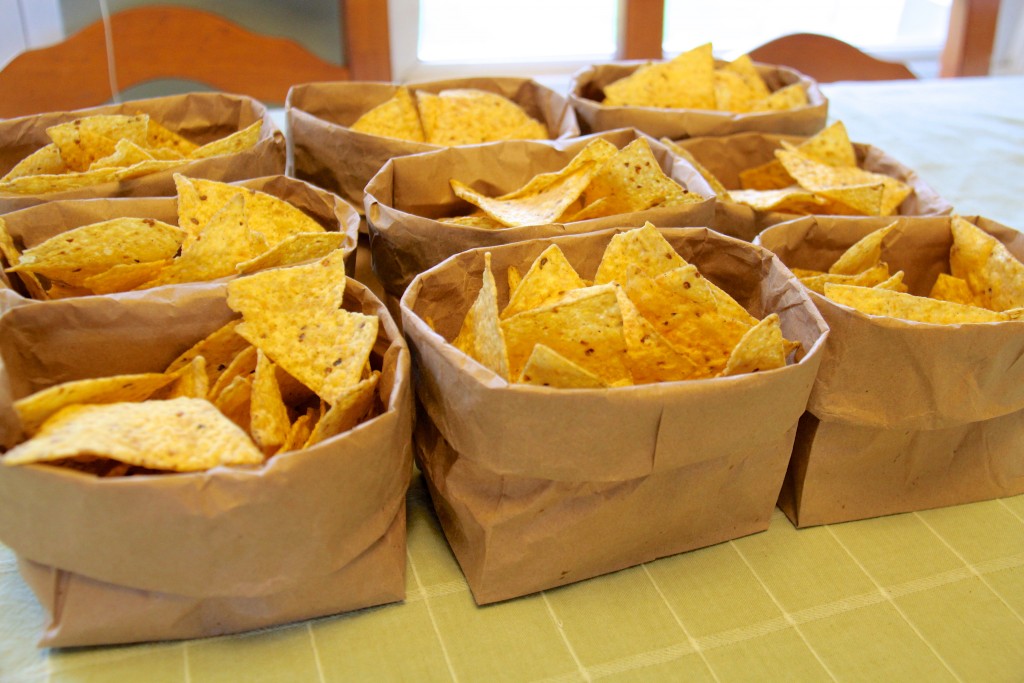 Chips & Salsa
For $1 you can buy brown lunch bags, and roll them down for this cute effect.
Burrito Bowls
Have you been to Chipotle? This is a total knockoff of what they have going on over there.   Make lots of rice, some chicken and barbacoa in crockpots, and set out bowls of all your fave toppings.  Ours included, black beans, corn, shredded cheese, sour cream, tomatoes, onions, and lettuce.
Here are the recipes for the chicken & barbacoa that I used.
Cost: I didn't calculate cost on this food, because it would vary largely, depending on where you like to shop.
Time Involved: 10-15 minutes. I literally threw them in crockpots in the morning, cooked them all day, and shredded it up right before the party started. So very easy, and tasty! My kitchen smelled amazing the whole day.
Found on:
Slow Cooker Barbacoa Beef from No. 2 Pencil
Easy Slow Cooker Shredded Mexican Chicken from Carlsbad Cravings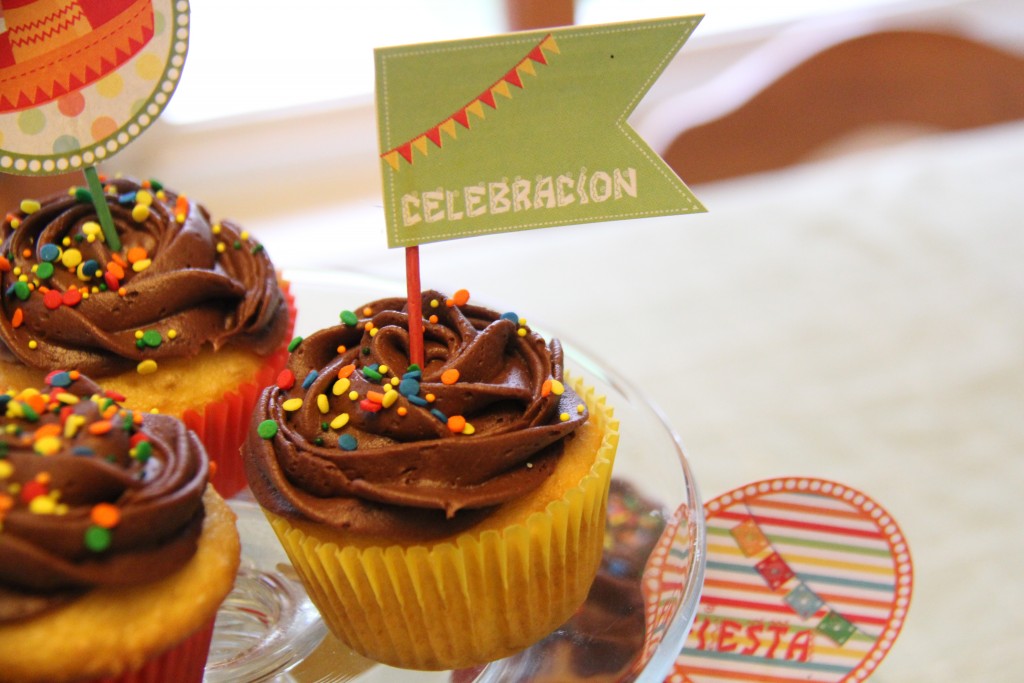 Piñata Cupcakes
You fill these cupcakes with M&Ms after baking, but before frosting. They are such a fun surprise for everyone.  One or two bites and you hit a pile of chocolate deliciousness that you didn't even know was there!
Cost: $6 for 24 cupcakes (this includes the cost of the M&Ms, cake mix, frosting, and cupcake liners.)
Time involved: These only took a few minutes longer than it would take to make plain cupcakes. Scooping out the middle and adding M&Ms was super easy.
Found on: For a nice tutorial see the post on Somewhat Simple .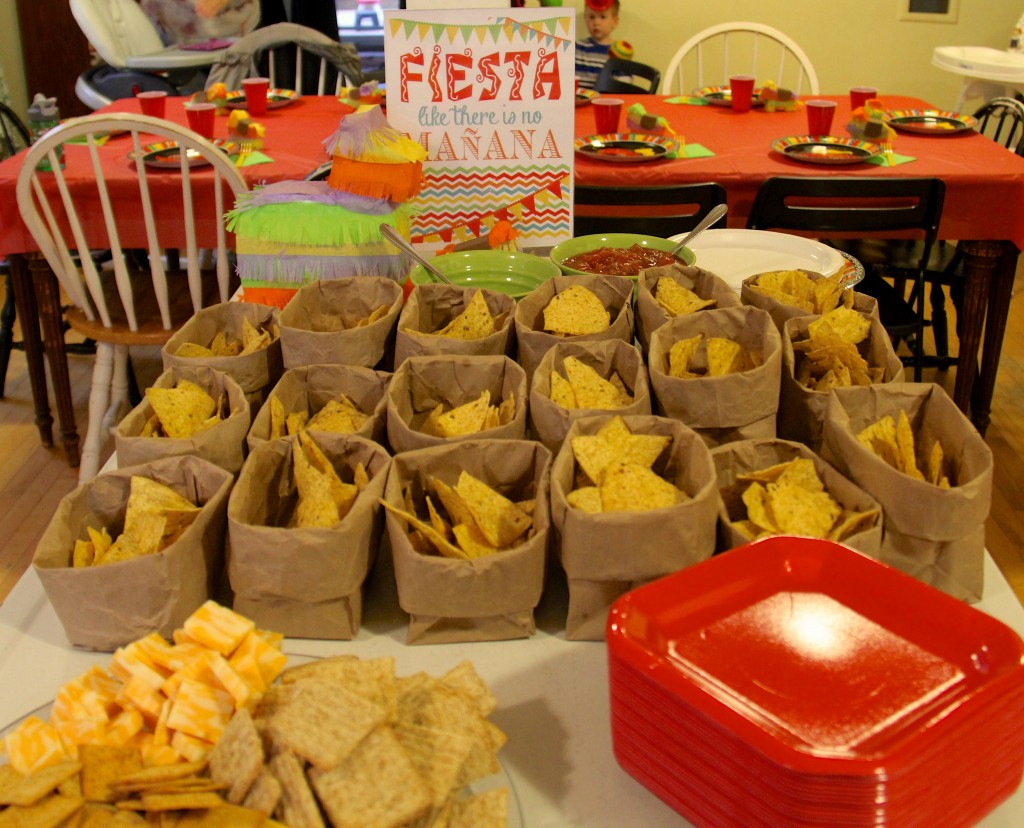 Here is a direct link to the Pinterest board I was pinning to for this party theme, because there are additional fun ideas over there.