Kids are naturally curious and creative. They can learn a great deal even when they are very young!  However, in a busy household, it is sometimes easy to crush some of that creativity.   Here are five ways you might be killing creativity (and learning experiences) without even realizing it!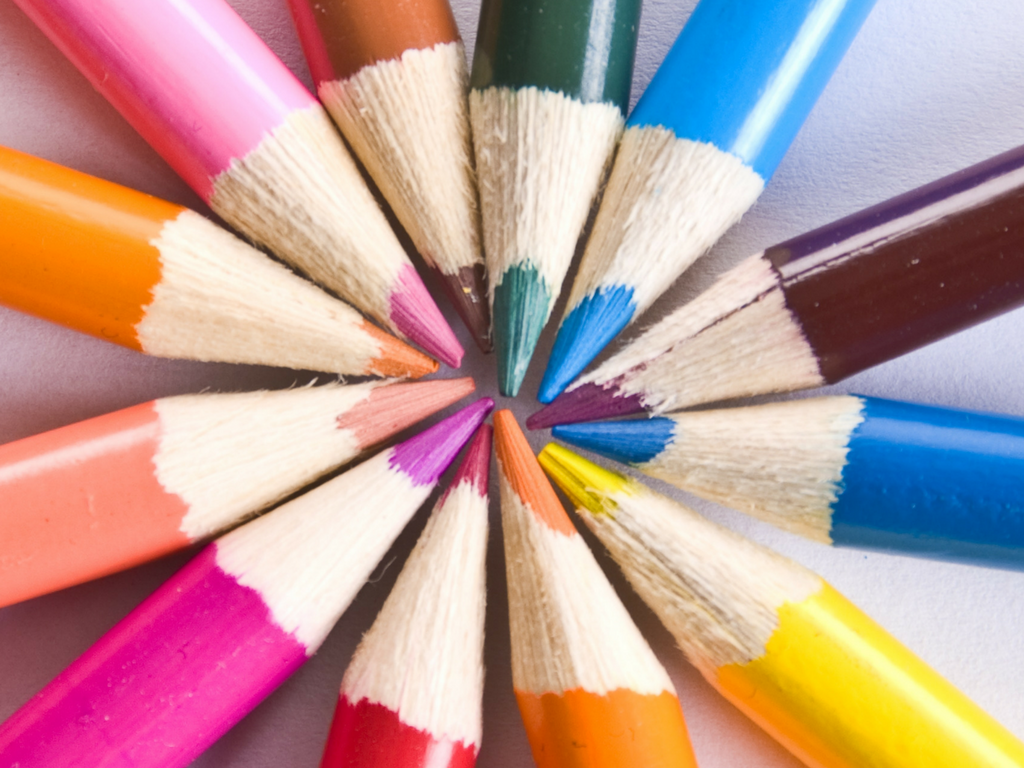 1. Being Too Organized
Raise your hand if you're a little OCD.  That's me. All my hands…wait, both my hands (I'm not an octopus) are raised.  Things out of place drive me bonkers.  If I'm not careful, I can spend the whole day following the kids around cleaning up messes and doing nothing else.  I like clothes folded a certain way, toys divided by type, books upright with the spines facing out, shoes in a line, and the list could go on.  The downfall of this type mom is that it's hard to let the more free-spirited, "artsy" kids do things the way they want, and the way that makes sense to them.  If you read my blog on a regular basis, you know my little daughter, Addie, has quite the personality!  Along with the colorful way she sees the world, she has a huge imagination, and in her mind, there are no rules.  Who wants to color IN the lines anyway?
She loves to take a laundry basket and fill it with random blankets, stuffed animals, legos, books, and anything else that pops into her head.  It's like a horrible nightmare for people like me!  But if I'm constantly trying to correct her imaginative nature, she could easily become discouraged.
What NOT to do– 
Don't expect your children to be just like you.  Embrace the messes they make, and realize it's how some kids learn best! If you have a child that spreads every crayon, colored pencil, marker, and highlighter across the kitchen table to "color", resist the urge to scoop it all up and organize it.
Also, try not to compare their messy and creative nature to a sibling who is more tidy.
What to do–
Help them put their things away neatly when they are finished. Every strength is also a weakness, and your creative child will benefit from learning to organize, but this will not come easily for them.  Have patience, and praise both their crazy art and their tidy dresser drawer.
Conclusion: If you allow messes as a part of learning, your kids will have more hands-on experiences.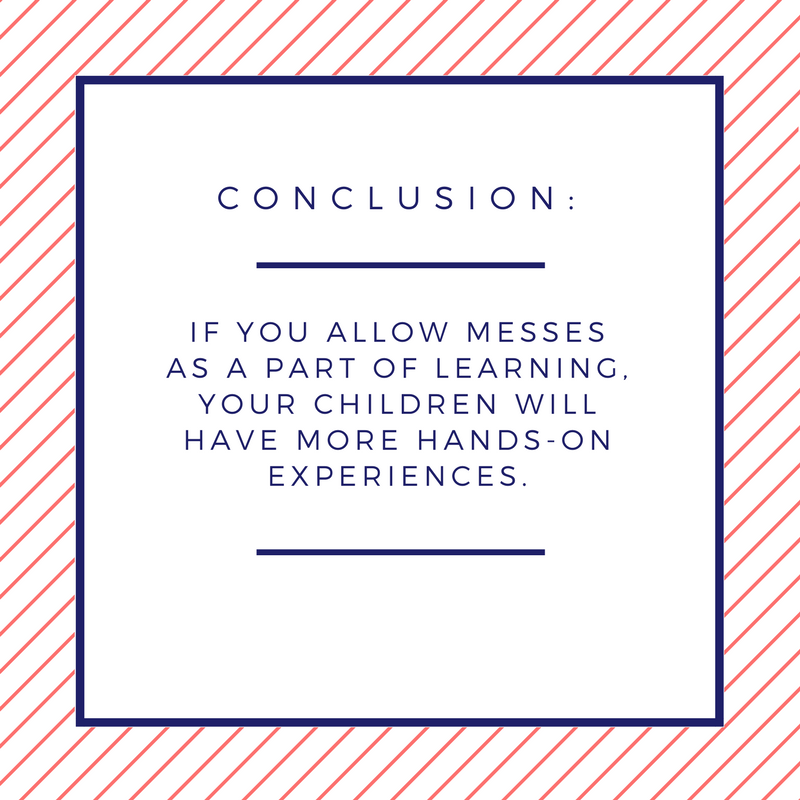 2. Being Too Messy
Okay, all you people that read that first section, and said to yourself, "Well, no problem!  Now I don't need to straighten the kids' room anymore. Perfect!"  Sorry, but it goes the other way too.  If your children's play area and workspace is constantly a jumble of all-the-things, that can kill creativity too!
Just last week, I was on a mission to get some things done that had been on my to-do list for some time.  As a result of focusing on that, the kids' room got messier and messier.  There were things all over the floor for several days in a row. I basically just avoided going in their room so I wouldn't have to think about it.  But do you know what I noticed?  THEY also avoided their room.  For those days where I didn't help them clean up or tell them to do so, they simply played in the nice, clean living room instead. Their room was too confusing to be any fun.
What NOT to do–
Don't take my first point too far. Don't allow pjs to be thrown on the floor, and legos to be scattered all across the floor for days at a time.
What to do–
When they're playing, let them be creative and messy, but when it's all done, teach them the value of cleaning up the play space for tomorrow's play. Wherever it is that they like to play (living room, bedroom, or basement), have totes, bins or toy boxes to collect things into at the end of playtime.
Conclusion: When play space is cluttered it is confusing to kids, and they will often play elsewhere.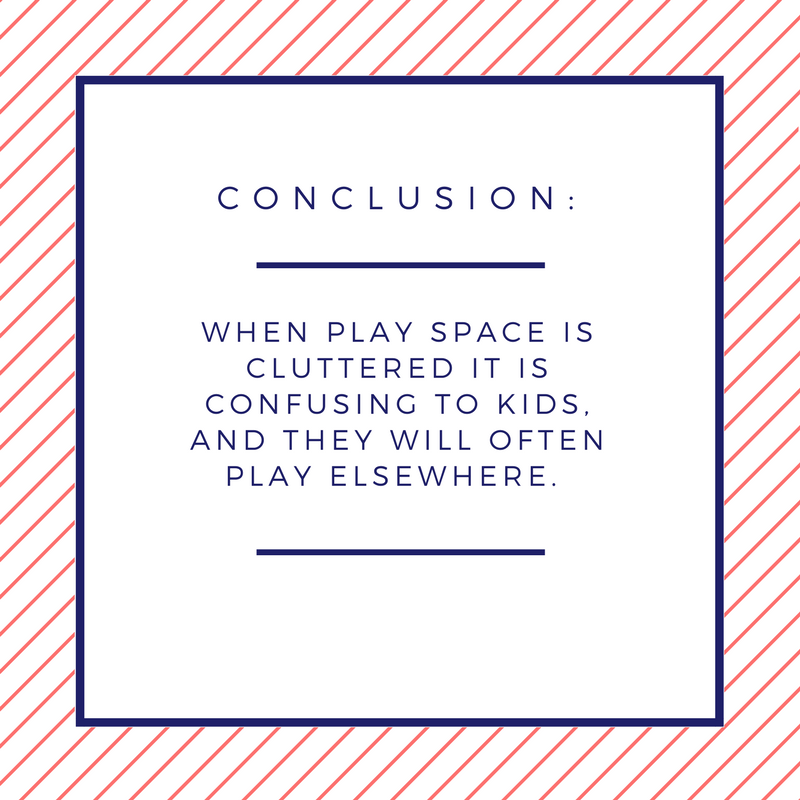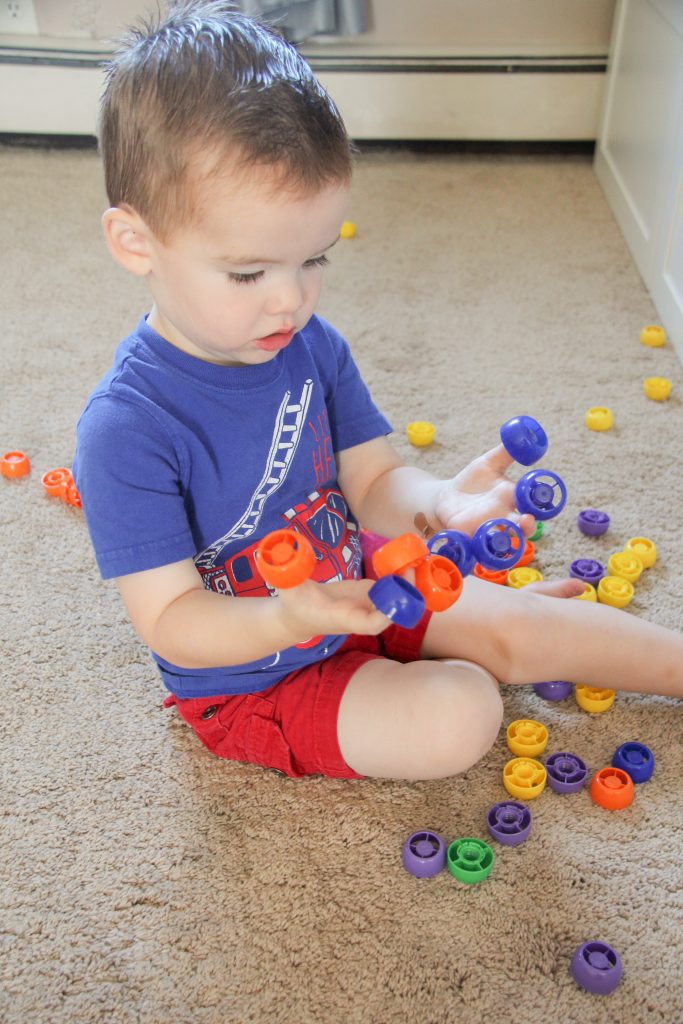 3. Frequent, Unmanaged Screen Time
I'm not going to get all scientific here, and show you studies of why children should have limited screen time.  If you want to look it up, there are plenty of articles for you to read. I'm just going to speak from my own experience.  I have noticed a significant difference in my children's level of focus, creativity, and independent playtime when they are not allowed to watch movies.  They are happier, learn more, and play better together the less time they spend in front of a screen.  Are some movies and apps educational?  Yes, some are better than others, but they still seem to pull from real-life experiences by making kids less content with just flipping through the pages of a good picture book.
What NOT to do–
Don't put your kids in front of a screen or hand them an iPad whenever you want to get something done. Save screen time for special occasions.
What to do–
Take a 100%  break from screens for several days. During this time, if they are used to watching lots of movies, or playing little games on the iPad, they will ask for it a lot.  Just give them something else to do instead that involves toys, books, or physical activity.  After they start asking less, and you notice they are coming up with fun things to do on their own, you can introduce some screen time back in if you like.
It's a good idea to decide how much and what type of screen time you are going to allow, and stick to that plan. This way it doesn't get out of hand right away again.
Conclusion: Too much screen time can stifle imagination, and make brain-building activities like reading seem "boring" by comparison. Less screen time generally leads to higher engagement in independent play.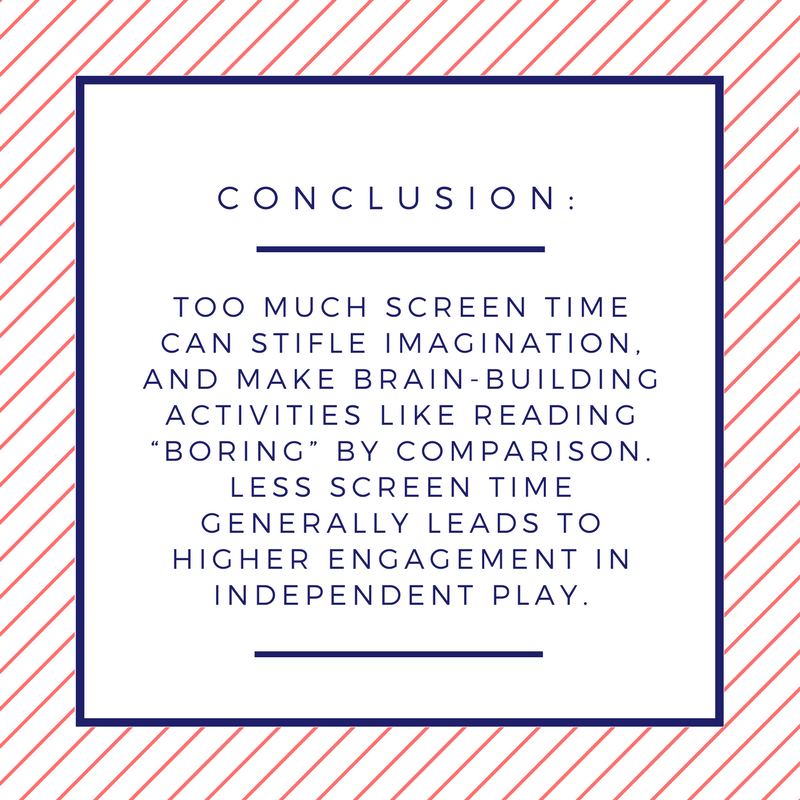 4. Not Answering Their Questions
I know, I know, kids ask a LOT of questions, but it is how they learn. Asking questions is a life skill.
But what about when they ask things like, "What's for dinner?" and you reply "Chili" and then they ask, "Why are we having chili?" and you say, "Because that's what I decided to make for dinner." and they say, "Why did you decide to make that for dinner?"
When children hit the stage where they want to why and how and when about everything, it can truly be exhausting.
What NOT to do–
Don't say, "That's not important", or "You don't need to know," or "Please stop with the questions!" While I completely understand and sympathize with you feeling this way, realize that these questions are important to them, and by talking and questioning they are learning about things around them.
What to do–
Instead, when you need a break from questions, say "I'm not available for anymore questions right now. We can talk about it a little later if you want!"  That's a nice way of saying, "I don't mind answering your questions, but I'm just not available to answer them at the moment."  Lots of the questions children ask answer themselves without ever having to come back to it.  Questions like, "When are we having dinner?, or "Why isn't Daddy home yet?" will answer themselves after a bit.
When you can, answer their questions with short, understandable facts.  They will gain so much from this type of conversation!
Child: "Why can't I cut my own chicken?"
Parent: "Knives are very sharp, and you could hurt yourself on them. When you are older I will teach you how to cut with a knife."
Child: "Why are knives sharp?"
Parent: "So they can cut through things…like chicken."
Child: "When will I be older?"
Parent: "Each day you are getting older!  Right now you're 3, and on December 13th you'll be 4!"
Child: "When is December?"
Parent: "Right now it's October.  After October comes November, and THEN December!"
From this conversation your child just learned that they are not to use knives until they are older. They learned that each day they grow older, and that their birthday is on December 13th.  They learned that November comes after October, and December comes after November.
Conclusion: If kids are allowed to ask questions often, it helps them to learn about the world around them.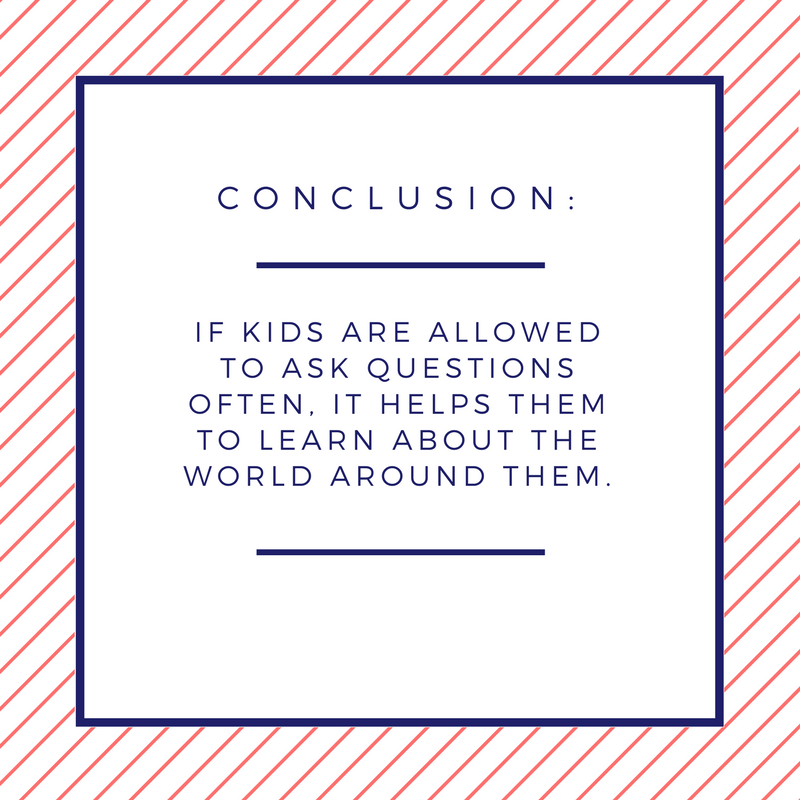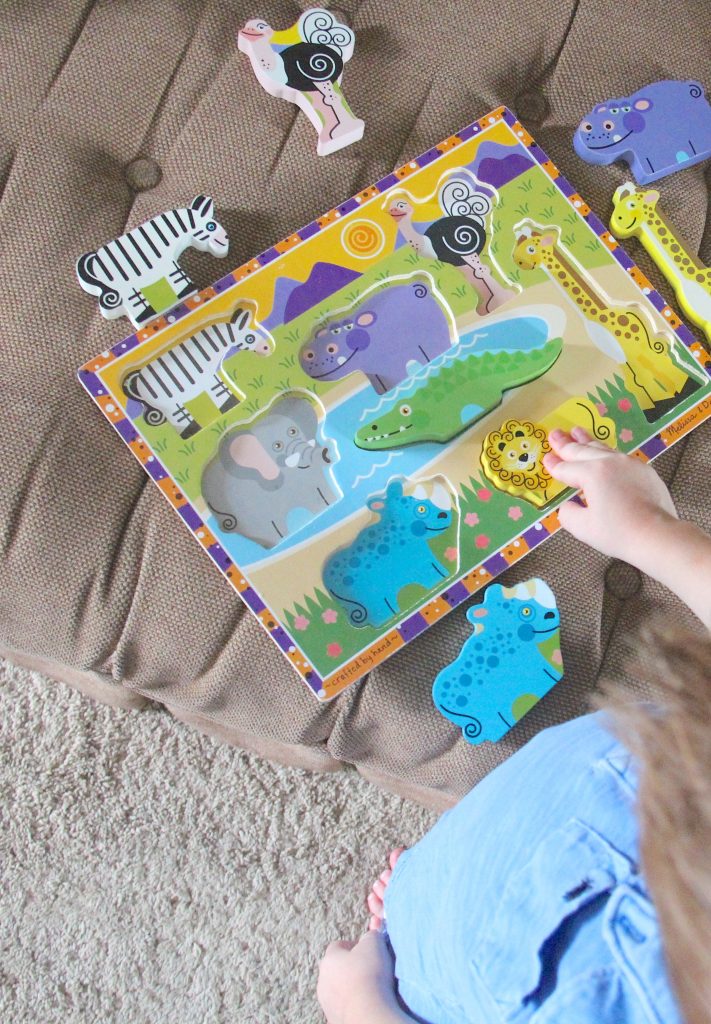 5. Not allowing them to fail
Kids try lots of things that adults know won't work. Unless they are attempting something dangerous or destructive, it's good to let them fail sometimes.  When kids hit the "I can do it myself" stage, they will often try things they are totally incapable of, but this is another way they learn.
My two year old likes to dress himself now, and without fail, he puts his underwear on backwards every morning!  Sometimes when I tell him they are backwards and say, "Try again", he gets it right the second time.  Other times it takes several fails to get the underwear on right.  It's important for his coordination and understanding of how to get dressed that I not get impatient and say, "You're too little to dress yourself. Let me do it."
Obviously, when we are on a time crunch I will sometimes take over, and get the clothes on correctly in a timely manner.  However, if you don't have to be anywhere quickly; this is a great activity for the willing toddler.
What NOT to do–
Don't take over their activity too quickly and help them out all the time.
Avoid saying, "No, that's wrong, just let me do it." Instead say, "Let me show you how." or "Try again, you can get it!"
What to do —
Watch them struggling with a task and offer verbal help first, "Looks like both your legs are in the same side of the pants. Why don't you take them off and try again!"   Don't forget to praise their small successes!
Also, teach them to ask for help when they need it rather than getting frustrated.
Conclusion: If kids know it's okay to make mistakes, they are more likely to take risks and be creative!